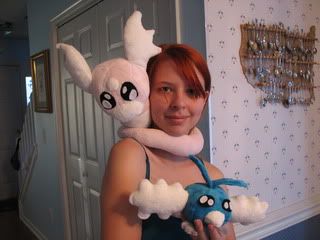 Dratini by far is the largest plush I have made yet. It is 37" in length! It is also wired through the body so that it can be worn or posed. Which will be great just in time for Halloween.
Swablu turned out so cute XD! This little one is 15" from wing tip to wing tip and is 5" tall. Also I have not sewn down the eyes because I was not sure how people would like the big watery eyes. So the auction winner can decide to keep these eyes or to just do the little dot eyes like swablu actually has.

Rules:
1) Bids must be in dollar increments. We don't like change 'round these parts.
2) You must pay at bid's end. Payment plans can be debated if necessary. Starting bid is needed upfront, though
3) Be nice and courteous to others.
4) Reply to the last bid or your bid does not count.
5) Shipping and paypal fees are not included in the bid.
Auction Ends: Friday September 30th at 11:59pm EST
Shiny Dratini Starting Bid: $100
Swablu Starting Bid: $45
Min bid incrament: $1
Goodluck XD