August Commissions (Open)

Examples
----------------------
Click the images for better pictures.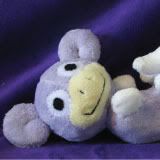 For more examples go to http://hottiehulio.deviantart.com.
Steps to Comission me
----------------------------------------
-----------

1. Send me a note or leave a message with the Comission form below.

Comission Form

Character/s you want:
:Anything special: (ex. pose, extra details, etc.)
Where you live:

2. Then I will send you the price it will be including shipping. (Shipping is free within the USA if not insured) Please let me know if you would like your plush insured.

3. Let me know if this is ok with you. If you listed multiple characters and sizes please let me know which one/s you are intrested in.

4. Send the amount listed to my paypal account (hollytillman@hotmail.com) with your full adress listed in the note.

5. Then I will put you in one of my slots.

Prices
----------

Small (8-11")
Easy - $75+
Medium - $100 - $175
Hard - $175+

The prices listed are the Minimum your plush may cost. The price goes up based on the difficulty of the plush as well as the amount of colors the plush will have.

Examples of difficulty
Easy - hottiehulio.deviantart.com/gallery/#/d340jei
Medium -
hottiehulio.deviantart.com/gallery/#/d33ezac
Hard -
hottiehulio.deviantart.com/#/d3elrbe
Slots
---------
1. lady_joan - shiny crustle - payment plan
2.
3.
Orders to be completed
(when paying up front or have fully paid you are moved to this list and this is the order the plushies are made)
----------------------------------------
---------------------------
1. lady_joan - shiny crustle -50%
2.
3.
Important Facts
---------------------------
- All plush are made using minky material unless something different is requested by the comissioner.
- Each plushie takes about a week to make. So if you are 5th on the list expect it to take about 5 weeks for your plush to be completed.
- When completed it may take up to a week to be shipped, but I will infrom you as soon as it is heading your way. Please let me know if you are interested in insuring your plush for shipping.
- I will take payment plans if your plush is over $100. However the plush will not be started until half of the payments have been made. Also if others pay in full who have gotten a slot after you their plushie will be started first.
- I also only like payments to be spread out over a 3-4 week period. However some exceptions will be made depending on the price of the plush.
- If for any reason I can not complete your plush your money will be returned in full.
- I will not have a waiting list, but all slots will be opened at one time. I may also have a special auction for an extra slot.
- If I raise my prices and I have already quoted you a price or you have paid it will not affect your price. Only future comissions will be affected.
- If you want to cancel your order I will refund all of your money as long as it is before I have started making the plush. Also if I have already ordered the fabric, but have not started the plush then I will return your money minus the cost of the fabric. I will contact you to let you know I am starting on your plush.
- Also I now have a feedback page so please let me know what you thought of your comission so the community can read about your experience. Here is the
http://feedback.pkmncollectors.net/feedback/leave/?user=hottiehulio
---